Contemporary yet traditional lehenga choli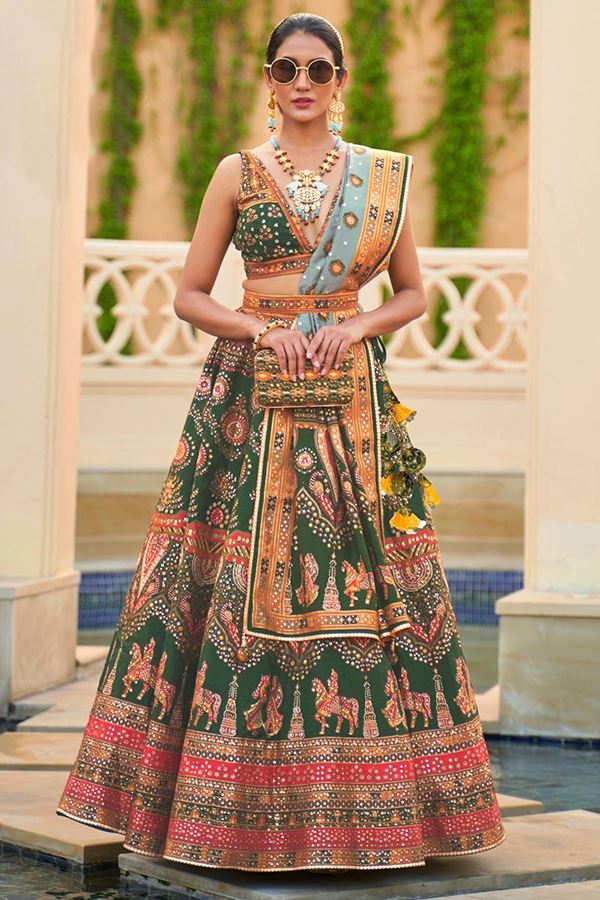 Introduction
In the world of fashion, traditional Indian attire has an unmatched allure, and the lehenga stands at the forefront of this charm. A delightful blend of grace and grandeur, lehengas have been captivating the hearts of women for generations. Among the plethora of options available, the printed green lehenga with an unstitched blouse and dupatta has emerged as a timeless classic, epitomizing sophistication and style. In this blog, we will delve into the captivating beauty of this ensemble, exploring its significance, styling tips, and the reasons why it is a wardrobe must-have for every woman.
The Beauty of Printed Green Lehengas
The color green symbolizes nature, freshness, and prosperity. When blended with the artistry of prints, it creates a mesmerizing effect that is hard to ignore. Printed green lehengas are a delightful fusion of tradition and contemporary aesthetics, making them an ideal choice for a wide range of occasions. Whether it's a casual daytime event, a traditional celebration, or a sophisticated evening soirée, this versatile ensemble can effortlessly elevate your style quotient.
The Elegance of Unstitched Blouses
The unstitched blouse that accompanies the printed green lehenga adds an element of creativity and customization to your outfit. This allows you to tailor the blouse to your unique style, ensuring the perfect fit and personalized design. Whether you prefer a classic, high-necked blouse or a trendy, off-shoulder style, the unstitched blouse gives you the freedom to explore and experiment with your sartorial preferences.
The Magic of Dupattas
The dupatta is an integral part of any lehenga ensemble, and a printed green dupatta beautifully complements the outfit. The sheer elegance of a flowing, printed green dupatta adds grace and movement to your overall look. You can drape it in various ways - over one shoulder, pleated at the front, or wrapped around the arms, each style exuding its unique charm. The dupatta not only adds an aesthetic dimension but also serves as a practical accessory, providing comfort and ease during your celebrations.
Styling Tips
Jewelry: Since the printed green lehenga is a statement in itself, opt for minimalistic jewelry to enhance the outfit without overpowering it. Delicate earrings, a sleek bracelet, and a dainty necklace can work wonders.

Footwear: Pair your lehenga with elegant footwear such as embellished flats or embroidered heels to strike a perfect balance between style and comfort.

Hairstyle: For a traditional touch, you can go for a chic bun adorned with fresh flowers or sparkling hair accessories. Alternatively, soft curls or a simple braid can add a touch of modernity.

Makeup: Keep your makeup subtle and radiant, allowing your natural beauty to shine through. A pop of color on the lips or a slight smokey eye can accentuate your overall appearance.

Clutch or Potli Bag: Complete your look with a complementary clutch or a traditional potli bag, adding an element of sophistication and practicality.
Conclusion
In conclusion, a printed green lehenga with an unstitched blouse and dupatta is an embodiment of grace, elegance, and versatility. It celebrates the rich heritage of Indian fashion while embracing contemporary sensibilities. This enchanting ensemble allows you to channel your individual style, making it an ideal choice for various occasions and celebrations. So, embrace the charm of the printed green lehenga and let your beauty shine through its timeless allure. Let this classic ensemble be an essential part of your wardrobe, and you will be ready to mesmerize the world with your ethereal elegance.